Trinity College Dublin Provost Linda Doyle officially launches SEURO project
Provost Linda Doyle (Trinity College Dublin) launched the new digital health research programme 'SEURO' (Scaling EUROpean citizen driven transferable and transformative digital health) on 26th April 2022 in the Trinity Business School in Dublin, Ireland.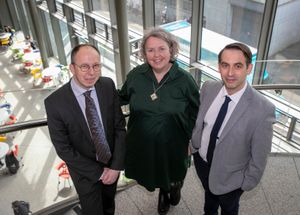 Among those in attendance were Dr. John Dinsmore (Health Innovation Lead/Deputy Director of the Trinity Centre for Practice and Healthcare Innovation), Prof. Wolfgang Schmitt (Dean of Research, Trinity College Dublin), Prof. Anna Nordström (Professor of Public Health, UMEÅ University), Prof. An Jacobs (Principal Investigator of Studies on Media, Innovation and Technology, imec), Evert-Jan-Hoogerwerf (Head of the Sector Projects for Innovation, AIAS Bologna), Dr. Julie Doyle (Director of NetwellCASALA, DkIT) and Michael Wright (Director of Corporate Operations at Home Instead).
SEURO has been awarded €3.9 million under the European Union's (EU) Horizon 2020 Research and Innovation programme. 'SEURO' which will be led by Dr. John Dinsmore, represents the 3rd successful Horizon 2020 award that he has secured (including ProACT H2020) in the area of digital health technology at TCD.