Trial Recruitment is ongoing
Participant recruitment for the Effectiveness Implementation Hybrid Trials (EIH) is still ongoing in all trial sites of the SEURO project (Ireland, Belgium and Sweden). In Ireland, both Trinity College Dublin (TCD) and Dundalk Institute of Technology (DkIT) teams have conducted several activities across the country including talking with community groups, approaching people at public events and promoting the project through our Twitter and LinkedIn social channels.
Recently, the SEURO project was mentioned in the Healthy Louth Newsletter (access HERE) and Dr. Julie Doyle (Director NetwellCASALA at DkIT and workpackage 4 lead), was interviewed by a local radio station (Dundlak FM) informing about the project, its aims and explaining the criteria and procedures to be enrolled in the trial. The full interview can be accessed HERE.
Members from the TCD and DKiT teams were also present at the "50+ Show" which took place in the RDS Dublin between the 14th and 15th of April. It was a great opportunity to meet and talk to potential ProACT users (people aged over 65 years old with multiple chronic conditions) about the project and its impact, to provide details about the trial and mostly to conduct demo sessions of the ProACT Platform and the devices being used in the trial. A number of people who attended this event are now enrolled in the trial.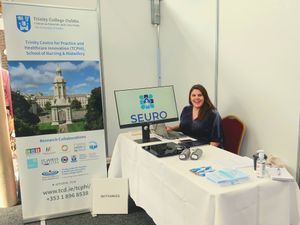 Healthy Louth Newsletter Second Edition May 2023
With recruitment on-going we are keen to hear from anyone who meets our inclusion criteria, which is people who are aged over 65 and who have been diagnosed with two or more of the following chronic conditions:
Diabetes
chronic obstructive pulmonary disease (COPD), including emphysema or chronic bronchitis, chronic asthma
heart failure
chronic heart disease (angina, high blood pressure, atherosclerosis, arrhythmia)
If eligible, participants are invited to take part in a six-month randomised control trial in which they are randomised to one of the following arms...
Use of the ProACT platform which is an advanced platform used to manage multimorbidity
Use of a basic application to self-management multimorbidity
Standard care with no technology provided.
In arm one individuals can invite their care network (e.g. family member, informal carer and healthcare professionals) to participate in the trial and support them as part of their self-management routine using the ProACT platform. If you are reading this from one of the trial sites and are interested in participating in the study or getting more information, please do not hesitate to contact the following options according to your location:
Ireland: seuro@tcd.ie or seuro@dkit.ie or phone: (042) 9370296
Belgium: seuro@imec.be or phone: +32(0)26291600
Sweden: livsmedicin@regionvasterbotten.se or phone: 090-785 89 66 or 073-029 06 17