The SEURO project receives award at 2022 SilverEco & Ageing Well International Awards!
Advancing the Silver Economy
On September 12th 2022 at a ceremony in the "Palais des Festivals et des Congrès" Cannes France, SEURO partners received the 'Silver Eco and Ageing Well International Award' in recognition of the 'SEURO European H2020 project' as a key research project advancing innovation in the field of ageing well. Special mention was also given to the research collaboration with industry partner IBM Research Europe across both the ProACT and SEURO projects since 2016 to advance the field of artificial intelligence and healthcare.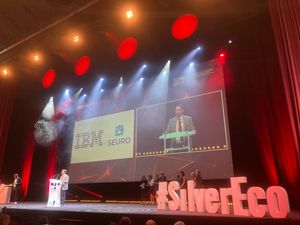 This award which is under the patronage of the French government 'Ministry for Solidarity, Autonomy and Persons with Disabilities' represents a significant endorsement for the work being conducted within the SEURO project to advance the fields of digital health and ageing.