SEURO co-hosting a Special Thematic Session- Submit an abstract
The SEURO project will co-host a Special Thematic Session (STS) with the SHAPES project during the Joint International Conference on Digital Inclusion, Assistive Technology & Accessibility - ICCHP-AAATE 2022, Lecco, Italy from 11th-15th July 2022. This Special Thematic Session will explore 'Digital assistive solutions in person-centred integrated care for older people' under two key headings areas:
The challenges related to human-device-system interaction, accessibility and solutions and strategies for its optimisation
The factors for successful technology adoption, scaling-up and transfer, including those related to system and service design, governance, cost-benefits
We invite professionals from research, healthcare or industry to submit an abstract to present in this STS. Deadlines for abstracts are 6th February 2022 for publishing in Springer Lecture Notes in Computer Science and 3rd March 2022 for publishing in the Open Access Compendium. For more information please see HERE.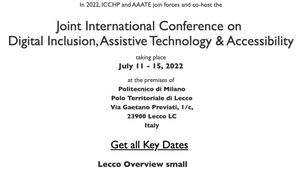 Sign up to our mailing list for regular updates on the SEURO project.