SEURO co-hosted Special Thematic Session at ICCHP-AAATE!
The SEURO project co-hosted a Special Thematic Session (STS) with the SHAPES project during the Joint International Conference on Digital Inclusion, Assistive Technology & Accessibility - ICCHP-AAATE 2022, Lecco, Italy on 13th July 2022! This STS explored 'Digital assistive solutions in person-centred integrated care for older people'.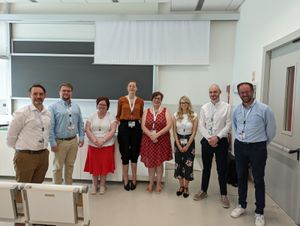 Several SEURO partners presented interesting research including: Myriam Sillevis Smitt (imec), Suzanne Smith (DkIT), Dr. Jane Murphy (TCD), Patricia Sheridan (DkIT), Evert-Jane Hoogerwerf (AIAS). Each presenter explored a range of interesting research including: experiences of older people, technology acceptance, adoption models for technology, evaluating digital technologies and transferability of digital technologies across integrated care.
Dr. Richard Lombard-Vance from the SHAPES project and Makysmilian Kuzmicz from the visuAAL project also presented research during this session exploring perspectives on technology acceptance and conceptualisation and information obligation as a balancing tool in EU law.